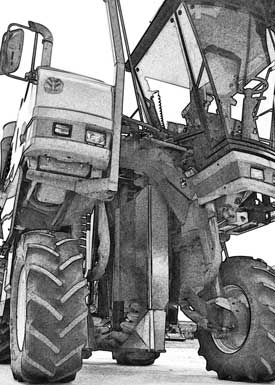 Sun on the Skins
This high, flat plain [around Lubbock] didn't exactly conjure up the image of wine country to me. The scenery was dominated by shades of burnt red below and indigo above. At the conjunction of these two domains, lean and well-drained soil combines with intense high-altitude sun, a little water, and copious amounts of manual labor to define this agricultural region. Surprisingly, cotton and other commodity crops, the local mainstay for generations, now share space with some of the most sought after grapes in Texas.
Fresh high-plains air in my nostrils and strong hot coffee in my belly primed me for the day's activities. The first stop was at the Newsom family vineyards. Neal [Newsom] admitted that after his first encounter with Professor Roy Mitchell, his association with another Texas Tech professor, Clint "Doc" McPherson [over 25 years ago], encouraged him to allocate some of the family's land for a vineyard.
As we talked, Neal showed off his grape harvester [above] an odd-looking bulky blue tractor with a high cab and a possumlike underbelly that first shakes the vines and then whisks the berries with a deafening blast of air to overhead bins.
Excerpt from Chapter Eight: Sun on the Skins
Order a copy autographed by the author, Russ Kane, at: