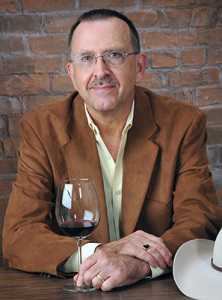 Texas on the Vine
Dr. Russell Kane is an award-winning writer who shares his time between Houston, Texas, and the Texas Hill Country. His writing skills were honed as a technical writer and researcher with this body of work leading to two International writing awards. Since 2008, he has chronicled his wine country travels and experiences providing information on wine characteristics in context with history and geography on his VintageTexas blog. Examples include blogs on:
"Sangiovese Two-Ways: A Texas Terroir Tasting" comparing Texas High Plains vs Hill Country wines,
"And the Survey Says….The Right Grapes for Texas Wine!" an analysis of Texas wine consumer preferences,
"VintageTexas 'Cyclopedia of Wine: Muscat Canelli, First Wine to Show True Texas Terroir" an analysis of the seductive floral and heady characteristics of this Texas-grown grape,
"Comparative Tasting: Premium White Blends – Viviana, Alluvium Blanc and Conundrum" assessment of three premium white table wines (one from Texas and two from California) with fascinating and somewhat exotic characteristics.
In 2012 he authored his best-selling book: The Wineslinger Chronicles: Texas on the Vine from Texas Tech University Press. For this work, Dr. Kane was recognized twice by the Texas Wine and Grape Growers Association with their Wine Media Award (2009 and 2013). His recent activities include contributing articles in regional publications (Edible Austin, Edible DFW, Houston Chronicle), judging in international wine competitions, and completion of a second Texas wine book, a photo-history and trail guide, Texas Hill Country Wineries, published by Arcadia Publications released in January 2015.
---