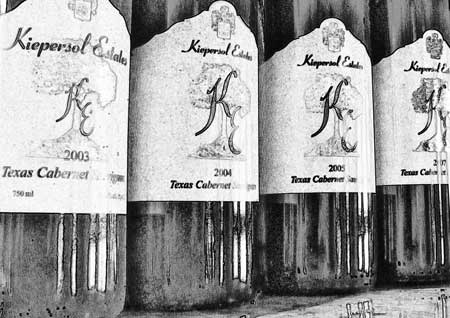 Coming to America
Scenic hills with tall pine trees fringed my East Texas path to produce a cloistered environment with an emerald cast. As I drove, I thought about how modern man conjoins with nature on a grand scale in Texas: acres under barn, vast countryside dedicated to row crops, white wooden fences extending to the horizon guarding the domain of domesticated animals.
My path circumnavigated the sprawling East Texas city of Tyler, following four-lane thoroughfares into the piney woods. Once at Tyler's southern reach, I entered what I soon realized was the "Province of Kiepersol," the domain of Pierre de Wet and his daughters. A man of immense vision and strength, Pierre, with his daughters Marnelle and Velmay following closely in his footsteps, has crafted a new life and realm…
After our introduction, Pierre said, "Sense of place, terroir, for me it's very different than the old conception that you read about in all your wine books. With modern-day technology, man can change the terroir. I'm a good enough farmer to change it to get what I want." His voice carried the interesting intonation of his South African homeland, but his message was pure unadulterated American freedom….
To finish the tasting, Marnelle and I trekked down into the barrel room for a sample of her 2008 Cabernet Sauvignon still in barrel. From one taste, it was obvious that she had reached the level of a confident winemaker, something that only comes with courage and even a bit of cellar room bravado to coax every last bit of fruit and character the grapes have to give.
Excerpt from The Wineslinger Chronicles – Chapter 14
See Kiepersol Estates Vintner's Dinner Featuring The Wineslinger Chronicles:
https://wineslinger.net/ai1ec_event/kiepersol-estates-vintners-dinner-featuring-the-wineslinger-chronicles/?instance_id=